Friday, 21 March 2014 00:00
IRILUR S. L. - Lamps and accessories for lamps, has once again put its trust in us to create and merge their new closed arms for luminaire in zamak. After months of work we can say that their new design is ready to be added to IRILUR`s catalog of products.
Unlike the majority of companies of lamps or accessories for lamps, IRILUR S. L. takes you from the years 80 using the zinc alloy "zamak", applied with success to manufacture their lighting products, obtaining forms and geometries not possible with other materials with the exception of the plastics, And by another dramatic improvements of surface finish due to its dimensional stability and smoothness to the obtainable in the surfaces, by deleting processes of filing and polishing that fatally entered, in the brass castings and bronze, and to a lesser proportion in the bilberry, controllable little variations of the originally projected forms (especially in edges and curves of small radio). This protection is obtained either with organic coatings (paints, varnishes, lacquers and enamels) or by electrolytic coatings that, in the brasses are generally of nickel and chrome, and in the case of zamak tend to be copper-nickel-chrome.
Neither must we forget the possibility that has the zamak, like the other metals and certain plastics, coatings to incorporate the tribology of PVD (Physical Vapor Deposition), CVD (Chemical Vapor Deposition) or of PECVD (enhaced Plasma Chemical Vapor Deposition) or The most recent on the basis of nickel alloys and tungsten, which in certain cases are substituting or substituted for the coatings to electrolytic nickel base and chrome that, among the other characteristics do not affect the environment or the health.
Tuesday, 23 July 2013 13:30
Anodizing of aluminum (or anodic oxidation) is an electrolytic surface treatment can produce a thin protective surface layer and passive microporous alumina (Al2O3) a few tens of microns. The aluminum foundry alloys can all be anodizing treatment.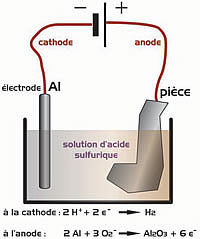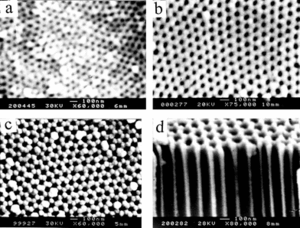 Principle anodizing SEM anodized layer
What is anodizing?
The functions of anodization are:
- Decoration (many colors)
- The mechanical protection against corrosion, wear (hardness)
- The hanging before painting (not clogged deposit)
- The electrically insulating protective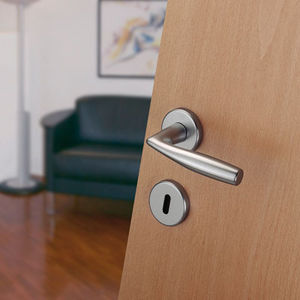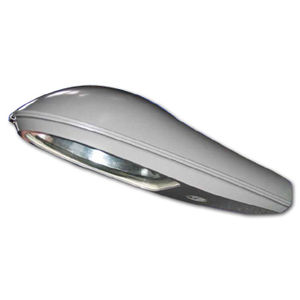 Handle anodized anodized Lighting
Types of anodizing
There are several types of anodizing:
- Anodizing "hard" in a bath of sulfuric acid (100 microns)
- Chromic Anodizing (a few microns)
- Sulfuric anodizing (10 to 20 microns)
Anodizing decoration (or decorative) can bring a superficial coloration of the aluminum part with pigments (many colors available).
The anodizable alloys
Alloys containing silicon (Al Si family) can be anodization of protection, but are not recommended for decorative anodizing. A high silicon content has a tendency to give a grayish hue. Al MG10 transformed into die casting, provides multiple color decorative anodizing. Al and Al Si2MgTi Mg3Ti (gravity die casting) produce highly decorative colors.



Subset in anodized aluminum pressure
Different thicknesses are achievable anodizing (5 to 50 microns) and depend on the function of the room.
Anodizing operation
The anodizing process consists of a series of bathroom (followed by intermediate rinsing) to prepare a first surface, a second oxide to produce a third color for the potential and the last to stabilize.
Standard
"Specification hard-anodized aluminum and alloys" ISO 10074